Tens of Thousands of demonstrators rallied Saturday in Washington, D.C. to protest the Trump administration's "zero-tolerance" immigration policy and separating children from their parents.
On a sweltering day in the capital, the crowd gathered at Lafayette Square across from the White House to protest separating thousands of children from their parents at the border and the new plan to detain families together. Some 600 "Families Belong Together" rallies were held around the country.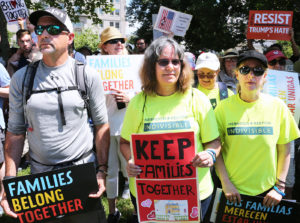 The  rally began with Sebastian Medina-Tayac of the Piscataway Indian Nation addressing the crowd in Spanish and English, reminding people that this is a nation of immigrants.Then he beat the drum.
Then Jocelyn, an undocumented immigrant who didn't want to give her full name, told of how she was separated from her son when she came to the United States from Brazil last August and she was held at a detention facility in Texas. She said that she was told that her son could be adopted. It took 9 months for them to be reunited.
Celebrities Lin-Manuel Miranda, creator of the smash musical "Hamilton," singer Alicia Keys and actress America Ferrera were among the rally speakers. Miranda sang a lullaby from "Hamilton," Keys read a letter from a mother separated from her son and Ferrera talked about being a new mother, her Honduran roots and her duty to defend justice.
After the rally, protesters marched down Pennsylvania Avenue past the Trump International Hotel to the Department of Justice.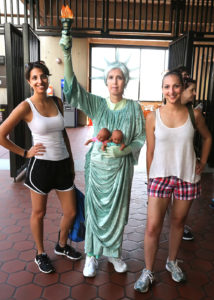 Nearly 2,500 undocumented children were separated from their parents recently under the "zero-tolerance" policy, which was changed June 20 to keep families entering the U.S. illegally together, but in detention. Only a few hundred of the children who were sent to shelters around the country have been reunited with their parents.
Under the "zero-tolerance" policy, anyone crossing the border illegally faces detention and prosecution.
The rallies in Washington and around the country were sponsored by the MoveOn, National Domestic Workers Alliance, Leadership Conference on Civil and Human Rights, ACLU and many others.
Photo Essay by Karen Kirk / Deputy Editor, Photo Editor of The Blue View