By Holly Hazard:
NEW ORLEANS — "Republicans are clearly looking for new grassroots groups making campaign finance mistakes and filing complaints and we need to watch for these tactics," said U.S. Rep. Graig Meyer, N.C., on Thursday on the Netroots Nation Conference panel, "Navigating Partnerships with the New Democratic Party and the New Grassroots."
One mistake mentioned was witnessing a grassroots organization raising funds for a candidate by asking for cash donations in a wicker basket.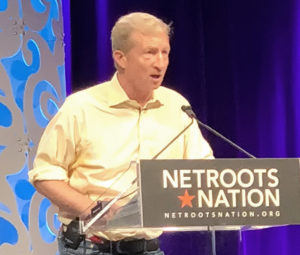 A representative from the Democratic National Committee (DNC) said that members are working with the "grass tops" to engage grassroots activists with the Democratic Party. Several panelists discussed the challenges and opportunities of combining the forces of the Democratic establishment with the multitude of new groups anxious to engage in this election cycle.
Panels and training throughout the day included social networking, progressive parenting, facing Anti- Muslim campaigns, and "Kids are More than Alright: How the Youth Will Save Us from Gun Violence." There are 100 panels at the conference.
One of the plenary session speakers, billionaire liberal activist Tom Steyer, provocatively asked  audience members to raise their hand if they thought their Democratic Congressional representative is listening to them. Barely a smattering of hands went up. He concluded "The establishment Democrats will come to speak to you but won't take real steps to reign in a reckless, lawless president. If they won't, I ask them, "What is your plan?" He ended his remarks to a cheering audience, clearly accusing Congressional leaders — Republicans and Democrats alike — of colluding through inaction, stating, "We must take down this corrupt president and his enablers."
Another dynamic speaker, Chokwe Lumumba, mayor of Jackson, Miss., challenged the audience, stating ,"You are not in this condition because someone was too radical. You are in this condition because someone didn't fight hard enough." He spoke at a recent national mayors' conference and told them, "I see a system that has not gone wrong, but one that is working as it is intended to. We must have a new system that governs us. We are going to lift people up. This is what our nation demands."
Cory Booker will speak on Friday in New Orleans at the annual meeting of the Netroots Nation Conference, the largest gathering of progressive political activists in the nation.
---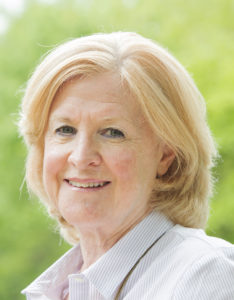 Holly Hazard is is a member of Mason District Democratic Committee and is on The Blue View Staff.