By Diane Weeks:
NEW ORLEANS — The Netroots Nation Conference wrapped up its third and final day Sunday with rousing speeches, planned and unplanned, from elected officials, political hopefuls, and spontaneous protestors. And the big reveal – Netroots Nation 2019 will be July 11-13 in Philadelphia, Pa.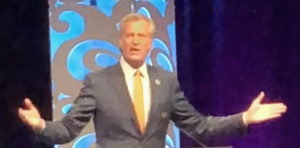 New York Mayor Bill de Blasio laid out a vision for the country "where health care is a right, not a privilege, and the wealthy pay their fair share of taxes." He countered what he called the "lies" about progressives not being able to win elections or govern once they've won by citing his accomplishments in New York city – universal pre-K, changes to the "Stop and Frisk" policy that has led to 100,000 fewer arrests and the two-year rent freeze he was able to institute. He challenged attendees saying, "It's time to double down" and continue to "make changes that speak to every day people's lives."
Ohio Rep. Tim Ryan praised LeBron James, who announced he is giving $41 million dollars to the city of Akron, Ohio for a school for third and fourth graders and will pay college tuition for students from the school that go on to graduate high school, a move that Trump had tweeted as "dumb." Ryan called for a bold agenda: rewrite the trade agreements so they work for the people, raise the minimum wage not just to $15 an hour but $30, $40, or $50 an hour, Medicare for all, tuition-free college, and to not just halt climate change but reverse it.
Alexandria Ocasio-Cortez reminded everyone that the Democratic Party is the party that brought the country "civil rights, the New Deal, coast to coast electricity, interstates, women's' right to choose, Medicare, and Social Security." The crowd greeted her by chanting "O.C! O.C.! O.C!" Ocasio-Cortez is the 28-year-old educator, community organizer and political activist who beat incumbent Rep. Joe Crowley in the Democratic primary in New York's 14thcongressional district. It has been described as the biggest upset victory of the 2018 midterm-election season.
"There is no district too red to flip" she said, "We're not going to beat them with big money but with big organizing."
Half way through what had been a precision progression of speakers, the stage suddenly was quiet and empty for about a minute, then it was filled with a group of protestors who challenged the Netroots Nation organizers inclusiveness saying the conference makeup of the conference attendees didn't reflect the city of New Orleans population who they felt were relegated to serving the people who were attending the convention. They insisted that this be fixed for the next conference and asked all attendees to vow to not attend Netroots Nation 2019 unless it is.
Earlier in the day, Virginia Delegate Jennifer Boysko of Fairfax and de Blasio attended a brown box lunch session hosted by  Crowdpac, a group that helps political outsiders raise money to run for office. Boysko told attendees how Virginia had flipped 15 seats in the 2017 election and gained Medicare expansion for 400,000 people, an accomplishment that de Blasio said had "blown past the pundits and shocked the world."
Also earlier in the day, a panel comprised entirely of Fairfax County Democrats, including Delegate Boysko, Delegate Mark Keam (Vienna), BRAWS  founder Holly Seibold, and Catherine Read, an online marketing consultant and civic activist, discussed the evolution of the menstrual equality movement and Virginia's recent successes in providing access to menstrual products to women and girls in need.
The photo above the story is of the Fairfax panel convening Sunday at the Netroots Nation Conference, which was the largest gathering of progressive political activists in the nation. From left are Mark Keam, Jennifer Boysko, Holly Seibold, Jennifer Weiss-Wolf and Catherine Read. / Photo by Holly Hazard. 
---
Diane Weeks is a member of the Mason District Democrats who worked on the 2017 election and has worked with Network NoVA on its annual conferences.