By Julie Galdo:
Two of northern Virginia's Congress members defended our federal intelligence agencies against vicious insinuations of corruption last month during the aggressive questioning of FBI Special Agent Peter Strzok. But our region's third member of Congress was nowhere to be seen.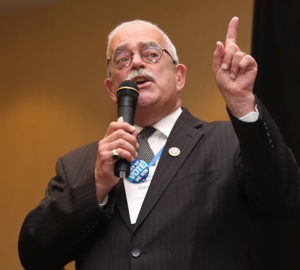 Strzok came across as a dedicated Federal employee who made a dumb mistake by expressing his personal feelings about politics in his official email account. But his Republican inquisitors tried to build that into a wholesale indictment of the integrity and professionalism of our most trusted institutions.
Strzok pointed out that that sabotaging an investigation would require everyone above him to sign off on his effort to subvert the investigation all the way to the director of the FBI. "Multiple layers…section chiefs, unit chiefs, case agents and analysts–all of whom were involved in these decisions.
But several of the Republican House and Judiciary Oversight Committee members were undaunted by reason and continued their assault on Strzok. Their logic can only lead to the conclusion that you can't trust anyone in the intelligence and national security communities — that they are all motivated by politics and not love of country.
Rep. Gerry Connolly (D-11) was having none of it.  At the hearing he called the Republican questioning an attempt at "destruction of the reputation of the FBI" and "a new low for the United States Congress". Don Beyer called it a hearing that "had no purpose other than to give Fox News coverage of Republicans attacking the FBI and DOJ".
But their colleague Barbara Comstock (R-10) did not have the courage or decency to stand up for the intelligence community.  Does Comstock truly believe that many of the men and women who serve in intelligence and national security are not to be trusted?  Or is she simply not be trusted to stand for what she knows is right?
Julie Galdo formerly served as communications director for the Health Program of the American Institutes for Research, and for NeighborWorks America. She is a member of Providence District Democratic Committee