By Janelle Hartman:
Pride was as thick as the humid air Saturday as Lee District Democrats gathered for their annual luau, where a special guest symbolized the contrast between an inclusive Virginia and those who want to turn back the clock.
Anne Holton was 12 years old when her family became role models for desegregation, as her father, Linwood — the Republican governor of Virginia — enrolled his children in predominately black schools near the capitol in Richmond.
In a Franconia back yard nearly 50 years later, Holton delighted an audience as determined as she is to reelect her husband, Va. Sen. Tim Kaine, and crush his opponent's racially charged campaign in the process.
Despite polling more than 20 points ahead of Corey Stewart, "Tim is fighting this race like he's two points behind," Holton said. "He says it's the only way he knows how to run a race, to run it as hard as he can. And he's inviting you and asking you and expecting you and appreciating you running it that hard with him."
Holton and other leaders who spoke said the energy bursting from Lee and activists across Fairfax County this election cycle bodes well, positioning Virginia to play a pivotal role nationally in November.
State Sen. George Barker said Virginia could pick up "two, three, four, five seats… to make Virginia a majority Democratic-represented state in Congress. We've got to get out and work, but we can make it happen."
Taking strategic advantage of his large lead, Kaine is devoting as much time as possible to contested U.S. House races around the state. Locally, he's committed to helping state Sen. Jennifer Wexton unseat Rep. Barbara Comstock in the 10th District.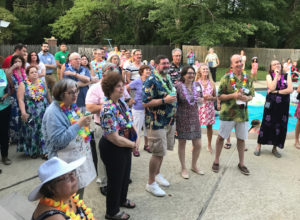 "Tim and I have had the privilege and honor of campaigning with these incredible Democrats," Holton said. "We want to win big, but more importantly we want to bring along congressional candidates. That's one of his metrics for success."
The decade-old fundraiser, featuring a Hawaiian-style buffet, silent auction and opportunity to mingle with elected officials, was held poolside at the home of Susie Warner, longtime committee member and retired 8thDistrict director for Rep. Jim Moran and his successor, Don Beyer. Jennifer Labach, a relatively new Lee Dem, coordinated the menu and a small army of volunteers.
Along with Barker, elected leaders on hand included state Senators Adam Ebbin and Scott Surovell, Delegates Paul Krizek and Mark Sickles, Fairfax County School Board members Tammy Derenak Kaufax and Ryan McElveen, and Fairfax County Lee District Supervisor Jeff McKay.
Introducing the guest of honor, Lee Dems Chair Alex Kirkland said, "To have someone here who has dedicated her life to education and to justice, it's one of the reasons I'm a Democrat. I love, love, that Anne Holton is here with us tonight."
Holton's long resume in public service includes her current appointment to the state Board of Education, two years as state secretary of education and a career as a Legal Aid attorney and family court judge. She was Virginia's first lady for four years and—nearly—America's second lady.
She didn't dwell Saturday on the outcome of the 2016 Clinton/Kaine campaign, focusing instead on the triumph one year later when Virginia Democrats picked up 15 seats in the House of Delegates.
"That win last November, I've got to tell you: It was a hope injection for the whole country," Holton said. "Tim talked about what it was like being in the Senate the day before, everybody moping around. The day after, everybody's like, 'Tell us how you did in Virginia and how can we do it across the country?'"
Janelle Hartman is a former newspaper reporter and longtime writer/editor in the labor movement. She is a member of Lee District Democratic Committee.
Main photo: Anne Holton speaks at Lee Dems luau with (L-R) Del. Mark Sickles, Fairfax County School Board Member Tammy Kaufax, Lee Dems Chair Alex Kirkland and School Board Member Ryan McElveen/ Photo by Janelle Hartman