By Todd Thurwachter:
During October, FCDC's Voter Registration and Education Committee (VR&EC) mounted a blitz to reach thousands of voters before the Oct. 15 registration deadline, registering at least 16 voters at local festivals and engaging thousands with voting materials, including VOTING: What you Need to Know cards in English and Spanish.
VR&EC also encouraged voters to manage their own registrations online and vote early (absentee in-person voting), which is key to increasing Democratic turnout.
The VOTING card features the most essential voting information condensed to 300 words as well as all the early voting times and locations in Northern Virginia. VR&EC also signed up hundreds for Election Alerts (also in Spanish), which e-mail updated voting information before each election. We ask recipients to forward Election Alerts to friends and family to multiply the GOTV effect.
VR&EC supported Hunter Mill Dems at Octoberfest on Oct. 6 in Vienna and KORUS (Koreanfest), the same weekend, Oct 6 and 7. Ten voters were registered at the two events, and nearly 1,000 were given election materials, including VOTING cards, FCDC Back to School Night Calendars and sample ballots. Also, 69 people signed up for election alerts.
With over a dozen volunteers wearing trademark blue "Ask me about voting in Virginia" T-shirts, we flooded KORUS with a powerful message: "In 2017, 83% of Asian Americans in Virginia voted Democrat! Why?  We share priorities."
On Oct. 13, we registered half a dozen people to vote at the Merrifield Fair and engaged over 250 voters with our VOTING cards, FCDC calendars and sample ballots, and signed up 40 for Election Alerts.
In the week before the Oct. 15 registration deadline, half a dozen VR&EC volunteers mounted a blitz at Orange Line Metro stations — Vienna, Dunn Loring and West Falls Church — during the afternoon rush hour. Wearing Democrat ID's and Vote Blue badges, we advised commuters that they automatically qualified to vote early (Code 1C), giving out almost 2,000 of our VOTING cards — a record for our Metro work.
Hopefully, the strong interest in our VOTING cards and Election Alerts presages a strong Blue Wave for this election which we can hopefully continue to build in 2019.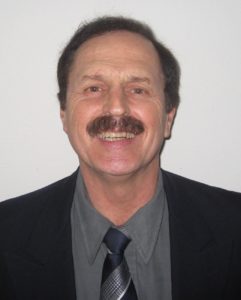 Todd Thurwachter, a retired Foreign Service Officer, has canvassed since returning from Beijing in 2009, serving since 2013 on the FCDC Voter Registration & Education Committee. He is a member of Providence District Democratic Committee.
Main Photo: From left, Jalmeen Soni of the Democratic Asian Americans of Virginia (DAAV), Karen Keys-Gamarra, Fairfax School Board, at large; Bob Haley, Chair, CD-11; Ilryong Moon, Fairfax School Board, at large; and Hyun Lee, DAAV.